Running global surveys or panels usually involves more resources as you need to deploy them in multiple languages. Launching your survey in each targeted country, collecting and synchronizing all data from all partners or regional marketing managers involved in the project will take time to consolidate. In addition, international recipients who will spend time answering your questionnaire will seek high recognition for completing it. In a global context, this implies that you will need to create rewards-based campaigns dedicated to each market to engage participants. And these recipients would love to have a gift that speaks to them, wherever they are.
This is where the online collaboration between SurveyMonkey and appyReward comes into play to give you the best program workflows for launching your international rewards-based surveys.
SurveyMonkey is the world's most popular online survey tool and it excels at delivering actionable insights faster, far more efficiently than traditional methods. The service is available to customers in more than 60 countries, supports over 30 currencies and offers the ability to send surveys in French, Spanish, German, Italian, Portuguese, Turkish, Chinese, and more, or create multilingual surveys. This gives you the opportunity to extend rapidly your survey all around the world to get insights from different markets.
appyReward is developing an exciting disruption model for the incentives software industry. For SurveyMonkey users, appyReward enables them to easily create rewards-based campaigns directly from the platform they use every day. Today's businesses frequently switch between different program workflows to retain their audience. With appyReward, users can set up attractive giveaways or sweepstakes that instantly offer hundreds of digital rewards (branded gift cards from various countries, Visa prepaid cards, donations, etc.) including their own corporate gifts, to recipients all over the world.
Lizeo group, a perfect global user case

For Lizeo Group, which is a global company that specializes in information technologies focused on adding value to Big Data for the automotive industry, the choice to run online surveys makes sense because it is easy to set up and efficient to synchronize responses from different countries. They recently launched a global survey with SurveyMonkey for a multinational tire manufacturer in order to gauge the level of satisfaction of B2B customers located in different countries and continents.
"Using a single survey template for Europe in many languages (FR, UK, DE, IT) helps us to quickly personalize the questionnaire", said Florence Paladino, Market Research Manager at Lizeo Group. "Additionally, SurveyMonkey offers powerful collector options to customize the survey-taking experience for each country and share it via social media for better deployment. It is also possible to use quota to filter and qualify the audience. Regarding the backend, the preview is very well accomplished for pre-launch tests. The scoring system is a real added value for evaluating survey performance, with results that can be monitored in a real time."
The Lizeo Group has also chosen to add incentives to boost the response rate to an acceptable level for the analysis of the results. "…We've seen that SurveyMonkey offers an app through its menu of integrators, appyReward, that allows you to implement rewards-based programs on your surveys," said Florence. "Setting up the app is very simple, and rewards campaigns are easy to create and link to your existing surveys. The system is well secured to control and limit redemption to single email or IP address. You can also create fully automated and unbiased sweepstakes. In fact, everything is automated and it saves you all the tedious work and waste of time…"
Global Workflows feature – Organize your rewards by country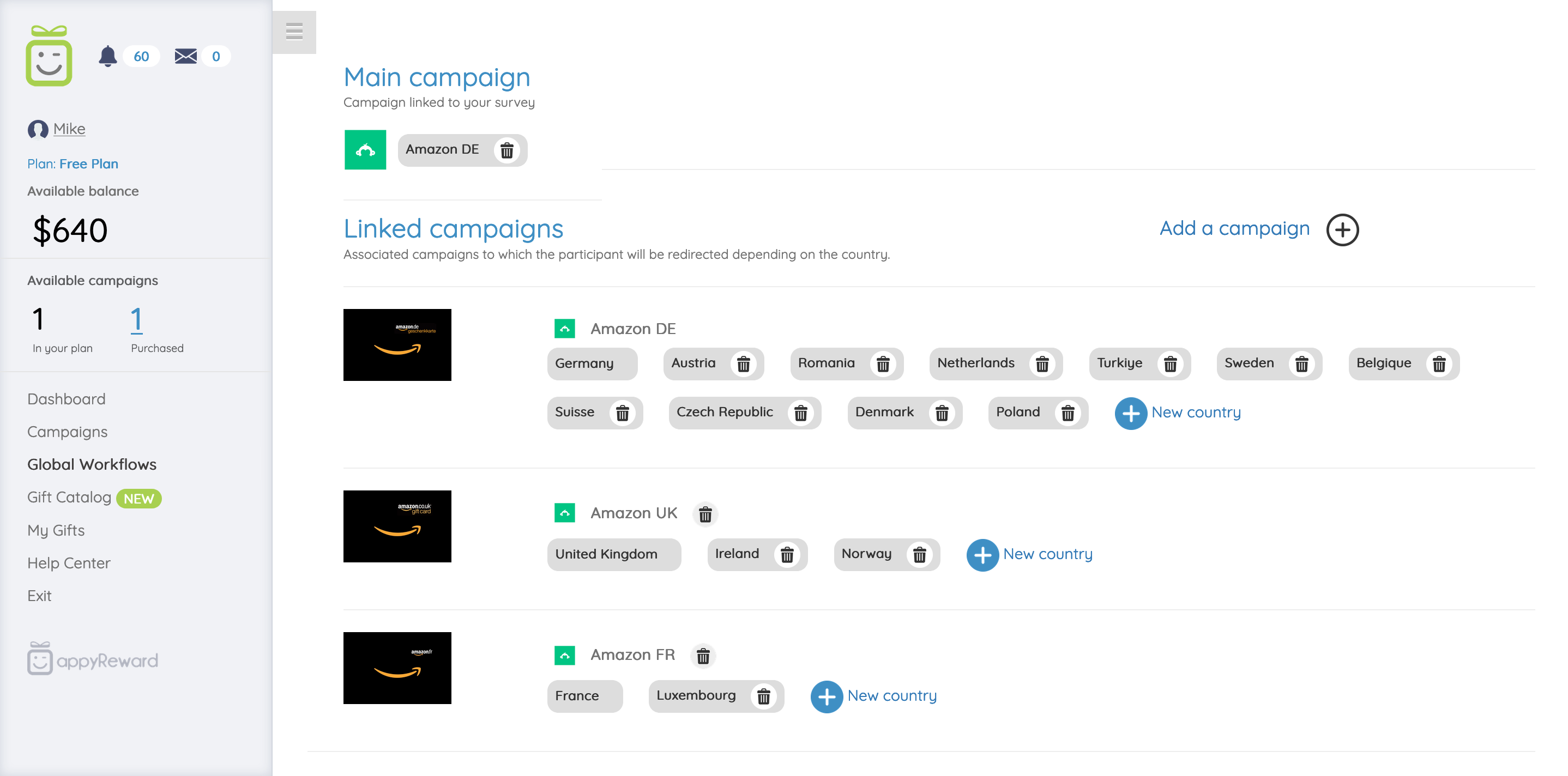 Customize the whole process (Landing pages, emails, delivery messages…)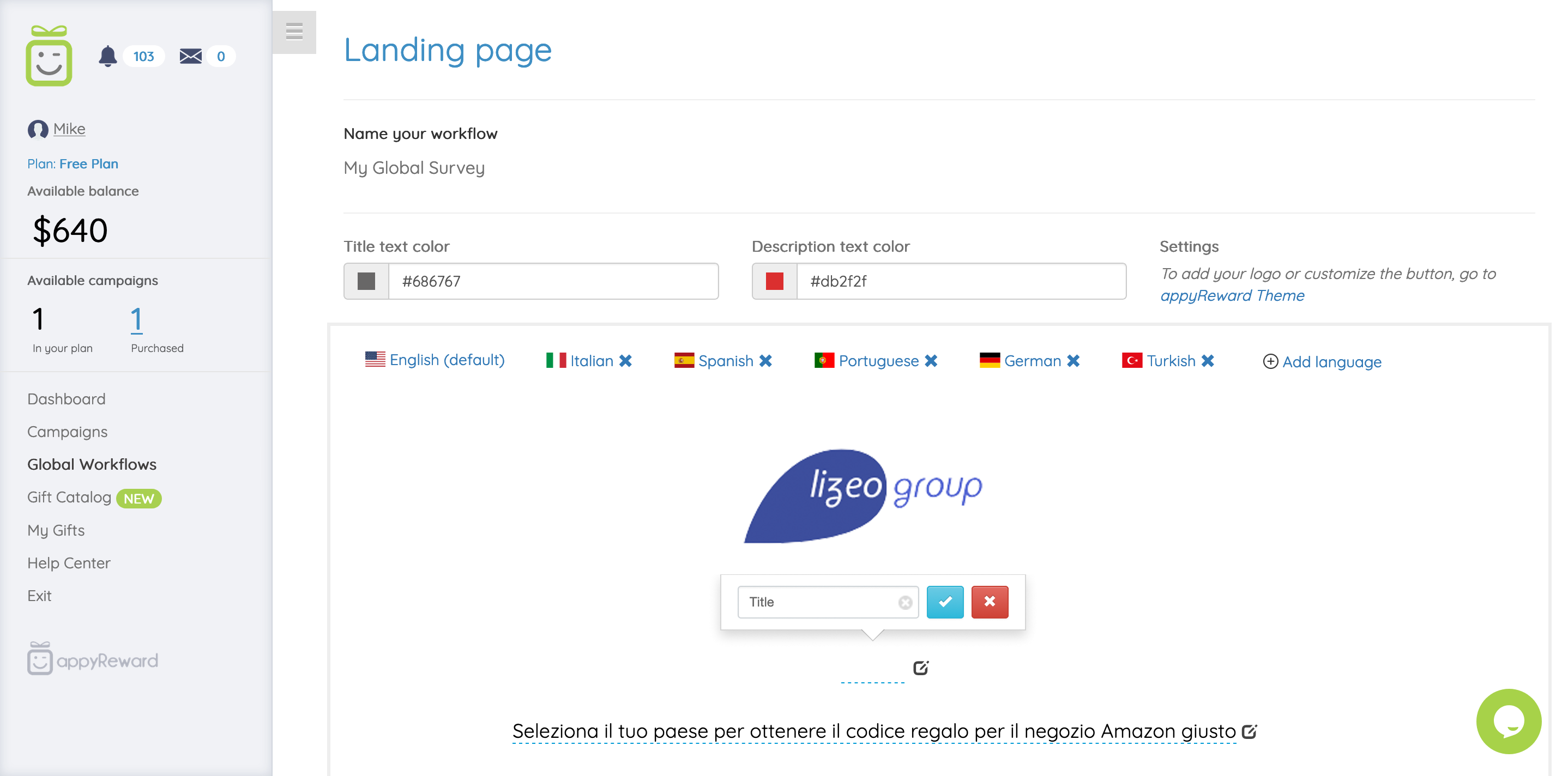 About appyReward
appyReward is the best rewards-based app that comes integrated within your favorite marketing, survey, or video platforms (SurveyMonkey, Oracle Eloqua, MailChimp, Google, ActiveCampaign, Zoom, Webex, etc.). The app helps you deliver the most successful campaign at lower cost. By choosing the right gift and setting the most appropriate campaign to your budget, you can instantly reward your audience and track all results in real times. The company is implanted in the United States and Europe to support operations locally.
Trademarks
appyReward is a registered trademark of appyRewards Inc. and/or its affiliates. Other names may be trademarks of their respective owners.