In the ever-evolving landscape of market research, staying ahead of the game is crucial. Modern research respondents expect seamless and efficient reward experiences, and with the powerful combination of appyReward and Tango, we're here to deliver just that.
Unlocking the Elements of a Modern Incentive Experience
Immediate Gratification: In today's fast-paced world, respondents want instant rewards. We make it happen through immediate delivery.
Variety for Everyone: Respondents have diverse preferences, and we cater to them with an extensive reward catalog featuring over 100+ global brands.
Accessible Support: Should respondents encounter questions or technical issues during redemption, our responsive support team is here to assist.
Effortless Redemption: We've streamlined the gift card redemption process, making it easy and intuitive for respondents.
Flexible Delivery: Our integrations, including those with SurveyMonkey and Qualtrics, allow for automated reward delivery.
Simplified Administration: Managing incentives is a breeze with our user-friendly portal.
Why Choose Gift Cards?
Gift cards have become the gold standard for research incentives for several reasons: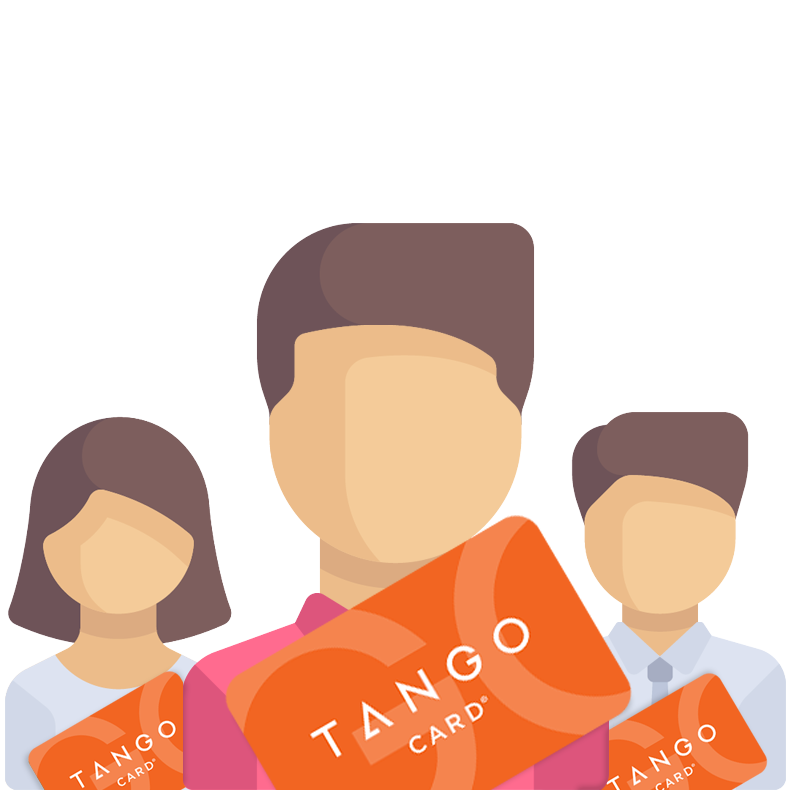 Budget-Friendly: Our reward solutions are cost-effective, ensuring that 100% of your budget goes to the incentive in most cases.
Time-Saving: Say goodbye to the time-consuming task of selecting new incentives for research participants. Gift cards simplify the process, saving you valuable time.
Digital Advantages: With appyReward, manual tracking and logging of incentives are a thing of the past. Our built-in reports can be quickly downloaded and organized, and digital gift cards arrive instantly, ensuring immediate respondent satisfaction.
Catering to Diverse Audiences
Universities: Professors, students, and marketing professionals conducting focus groups and surveys can rely on our self-serve web portal for easy, on-demand incentives. Customized email templates, branding, and integrations with Qualtrics and SurveyMonkey are at your disposal.
Market Research Projects: Researchers can seamlessly order and send incentives on-demand using our portal. Create customized email templates, add funds, and send out incentives conveniently, all within the appyReward platform.
Panels & Communities: For panel researchers, gift cards are a universal choice. Easily integrate them into your survey and engagement processes. Our integrations with platforms like Qualtrics, SurveyMonkey, and Zapier simplify your workflow.
Custom Integrations: If you need a tailored solution that seamlessly integrates with your company's proprietary platform and technology, our Webhooks process can power incentives within your existing apps and platforms. Automation has never been easier.
Tailor-Made Reward Campaigns for Unparalleled Participant Engagement
Unlocking the power of effective reward campaigns has never been easier with our versatile platform. Users have the flexibility to create their reward campaigns in two distinct yet equally impactful ways.

Access to Instant Rewards: One approach is to design reward campaigns that grant participants direct access to a range of enticing rewards. Whether it's gift cards, prepaid cards, or other exciting incentives, participants can enjoy immediate access to these perks. The process is streamlined, ensuring that your participants experience instant satisfaction.
Loyalty Programs: Alternatively, users can opt to create loyalty programs through our exclusive appyReward Points Pulse feature that goes beyond the traditional model. With this option, participants accumulate points for their involvement and contributions. These points can then be redeemed for a variety of rewards, enhancing participant engagement and encouraging sustained involvement.
The dedicated member platform exclusively serves our loyalty programs. Participants engaged in these programs gain access to this platform, which allows them to easily track their accumulated points and provides a seamless way to exchange these points for rewards that matter most to them. Whether it's coveted gift cards or prepaid cards, participants can choose the incentives that align with their preferences and interests.
With these two powerful approaches, you have the flexibility to tailor your reward campaigns to suit your specific goals and participant preferences. Whether it's immediate gratification or a loyalty program with a dedicated member platform that fosters ongoing engagement, our platform empowers you to create campaigns that resonate with your audience.
Choose appyReward and Tango to modernize your market research incentives and exceed respondent expectations. Your success is our priority!