In today's interconnected world, technology has made it possible to connect with people across the globe like never before. However, managing international rewards programs, such as sending out digital gift cards to a diverse audience, can present unique challenges. At AppyReward, we understand the complexities that arise when your audience spans different countries and languages. Fortunately, our platform is equipped with the essential features you need to streamline your global reward distribution and eliminate headaches.
Bridging Language Barriers
When it comes to delivering digital gift cards worldwide, speaking your recipients' language is crucial. AppyReward offers multilingual capabilities that allow you to connect with your audience on a personal level. Our platform can automatically translate reward emails and redemption pages, ensuring that recipients can easily claim their digital gift cards. We also provide the flexibility to customize translations, allowing you to tailor messages to specific audiences. Your recipients can even choose their preferred language during the redemption process, making their experience seamless and enjoyable.

International Reward Selection
Digital rewards are only effective if they can be easily redeemed in the recipients' respective locations. AppyReward understands that not all digital gift cards are created equal. Our platform offers a diverse global reward catalog that includes Reward Link by Tango in the following countries: Australia, Austria, Belgium, Brazil, Canada, France, Germany, India, Ireland, Israel, Italy, Japan, Malaysia, Mexico, Netherlands, New Zealand, Poland, Portugal, Romania, Singapore, Spain, Sweden, Switzerland, Taiwan, Turkey, UAE (United Arab Emirates), UK (United Kingdom), and USA (United States). These Reward Links provide access to a selection of 350+ popular gift cards, ensuring that your recipients have a wide range of choices to use their rewards wherever they are.
AppyReward caters to various preferences, whether it's international brands, regional retailers, or universal options like Visa and Mastercard prepaid cards and PayPal, ensuring that your recipients can use their rewards with ease and convenience.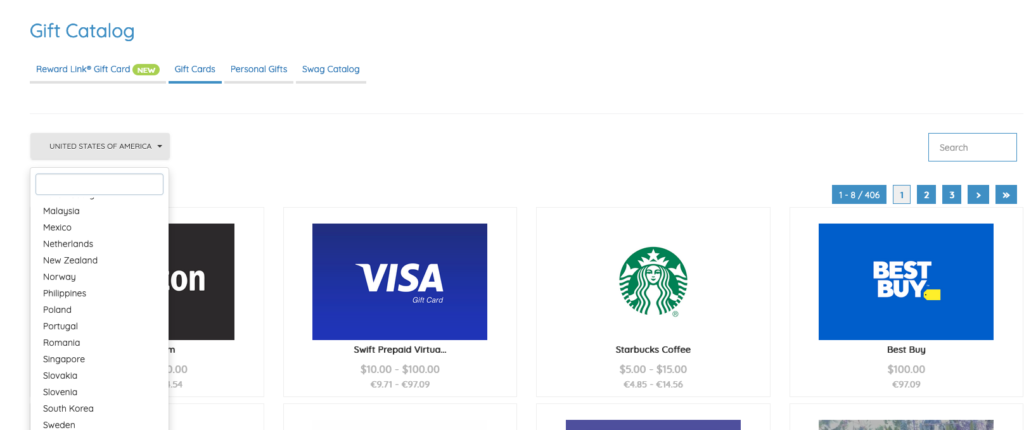 Simplifying Currency Conversion
Currency conversion management can be a complex task, but AppyReward simplifies the process. You have the flexibility to choose the gift card in the currency of the destination country for each campaign, especially if you're dealing with different distribution processes in various countries. At AppyReward, we recognize the importance of seamless global distribution of digital gift cards. Our platform is designed to address the unique challenges of international rewards programs, providing the necessary tools and features to streamline the process. With multilingual capabilities, a diverse global rewards catalog, and currency conversion options, AppyReward enables you to engage with your audience on a global scale. Say goodbye to headaches and hello to an efficient international rewards experience.
About AppyReward
AppyReward offers a SaaS platform that allows businesses to create rewards campaigns in just a few clicks. The platform is fully customizable and integrates with a variety of popular platforms, such as SurveyMonkey, Google Forms, Typeform, Jotform, Webex, and more…
AppyReward offers a range of rewards programs, including:
Benefits of using AppyReward
Ease of use: The AppyReward platform is simple and intuitive to use, even for non-technical users.
Customization: Businesses can customize rewards campaigns to meet their needs and branding.
Integration: The AppyReward platform integrates with a variety of popular platforms, making it easy for businesses to create rewards campaigns without leaving their preferred environment.
Customer support: AppyReward offers a customer support to help businesses get the most out of the platform.
AppyReward is a powerful and flexible solution for businesses that want to create and manage online rewards programs. The platform is easy to use, customizable, and integrated with a variety of popular platforms.